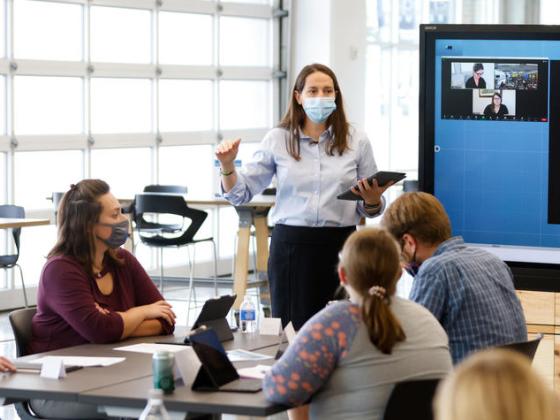 Teaching Innovation Institute
CELT's Teaching Innovation Institute is a responsive, interdisciplinary learning community that addresses emergent issues in higher education. Using a cohort model, TII draws faculty from across the disciplines into conversation and collaboration to address the opportunities and challenges in their classrooms. The institute invites and encourages reflection, inquiry, imagination, and an opportunity to think broadly about how to intentionally and inclusively welcome all students into their learning experiences.
Inspired by a constructivist mindset participants journey together through an exploration of a variety of pedagogical interventions. Inclusive pedagogies, trauma-informed pedagogies, digital pedagogies, and many others inform our approach to offer instructors numerous avenues for innovation in their courses.
Participants work collectively across two semesters to research, experience, and reflect on strategies for teaching and learning rooted loosely in the theoretical underpinnings of critical digital pedagogies and inclusive pedagogies. These experiences prioritize a renegotiation of roles and responsibilities of teacher and student in ways that decenter the classroom and inspire students to be curious and active. As an immersive program grounded in experiential, discussion-based, collaborative learning, the Institute encourages participants to approach the relevant topics with a sense of curiosity, collaboration, and play. The Institute is open to full-time faculty of any kind and level with teaching experience.
CELT is excited host the Teaching Innovation Institute each academic year and, in doing so, provide space and time for faculty leaders to work together on some of the most pressing challenges and opportunities for our teaching miss.
& 49 depts/schools represented among faculty participants
since the Institute's launch in 2020
2020 TII Cohort Featured in "Greater Faculties"
This issue of CELT's Greater Faculties: A Review of Teaching and Learning features a series of 'flash essays' written by 2020 Teaching Innovation Institute faculty participants to document their experiences and to share their innovations. The essays are organized into four sections. The first, "Digital Assignments for Real-World Application," centers on the idea of using digital technologies to facilitate assignments that require students to apply their content knowledge to real-world problems. The second section, "Increasing Access and Interaction," explores instructional additions that sought to increase student access to challenging or complex concepts. Section three, "Cloud-based Applications for Collaborative Learning," offers suggestions for facilitating small group assignments, feedback exchange, conversations, and brainstorming. The fourth section, "Instruction in Different Modalities," takes a broader view of teaching during uncertain times and examines the state of teaching in increasingly digital and augmented learning environments. View the issue here.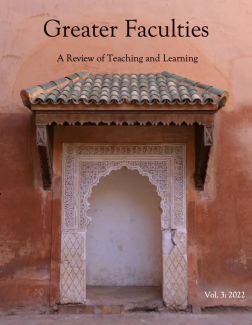 Teaching Innovation Institute Cohorts
2023-2024
Kim Anderson, Chemical & Materials Engineering
Marc Cormier, Kinesiology & Health Promotion
Shannon Crawford Barniskis, Information Science
Crystal Felima, Anthropology
Tonja Fisher, Entomology
Nathan Haan, Entomology
Anastasia Hauser, Chemical & Materials Engineering
Hayley Hoffman, Information Science
Mengtian Jiang, Integrated Strategic Communication
Seth Jones, Biology
Jayoung Koo, Landscape Architecture
Alissa Rossi, Community & Leadership Development
Eric Sanday, Philosophy
Nazmus Sakib, Lewis Honors
Jack Schieffer, Agricultural Economics
Carol Street, Special Collections
Anastasia Todd, Gender & Women's Studies
Koji Tanno, Modern & Classical Languages, Literatures & Cultures
Helen Turner, Interiors
Ashley Vowels, Health & Clinical Sciences 
Sarah Wackerbarth, Health Management & Policy
2022-2023
Stefan Bird-Pollan, Philosophy
Eladio Bobadilla, History
Renee Bonzani, Anthropology
Anna Bosch, Linguistics
Nicole Breazeale, Community & Leadership Development
Brenna Byrd, Modern & Classical Languages, Literatures, & Cultures
Thom Cochell, Chemical & Materials Engineering
Sarah Cprek, Health, Behavior, & Society
Brad Elliott, Mathamatics
April Hatcher, Neuroscience
Kettrell McWhorter, Epidemiology
Zitsi Mirakhur, Educational Policy Studies & Evaluation
Kathryn Mullen, Arts Administration
Thamer Musbah, Oral Health Practice
Denise O'Dell, Physical Therapy
Erin Richard, Biology
Elizabeth Spencer, Integrated Strategic Communication
Kristine Urschel, Animal & Food Sciences
Jessalyn Vallade, Information Science
2021-2022
Ruth Brown, Hispanic Studies
Diana Byrne, Civil Engineering
Julian Dupuis, Entomology
Amanda Ellis, Biostatistics
Heather Erwin, Kinesiology & Health Promotion
Lindsey Fay, Interiors
Jane Grise, Law
Regina Hannemann, Electrical & Computer Engineering
Kyra Hunting, Journalism & Media Studies
Aaron Hynds, Music
Anushka Karkelanova, Statistics
Darshak Patel, Economics
Katherine Paullin, Mathematics
Kristen Platt, Neuroscience
Kathy Swan, Curriculum & Instruction
Mark Swanson, Health, Behavior, & Society
Katie Twist, Internal Medicine
Cheryl Vanderford, Physician Assistant Studies
Elizabeth Williams, Gender & Women's Studies
Jessica Wilson, Nursing
Heather Worne, Anthropology
2020
Christy Brady, Clinical Leadership & Management
Andrew Byrd, Linguistics
Heather Campbell-Speltz, Hispanic Studies
Blanche Cook, Law
Jennifer Cowley, Nursing
Emily Croteau, Biology
Laura Fischer, Integrated Strategic Communication
Frances Henderson, Gender & Women's Studies
Lou Hirsch, Plant Pathology
Gail Hoyt, Economics
Christopher Huggins, Sociology
Nancy Jones, Theatre and Dance
Lee Ann Paynter, Art & Visual Studies
Sara Police, Pharmacology & Nutritional Sciences
Nels "Jeff" Rogers, Modern & Classical Languages, Literatures, & Cultures
Allison Soult, Chemistry
Farzad Taghaddosi, Mechanical & Aerospace Engineering
Ellen Usher, Educational, School, & Counseling Psychology
Sarah Vos, Health Management & Policy
Jackie Wahrmund, Animal & Food Sciences